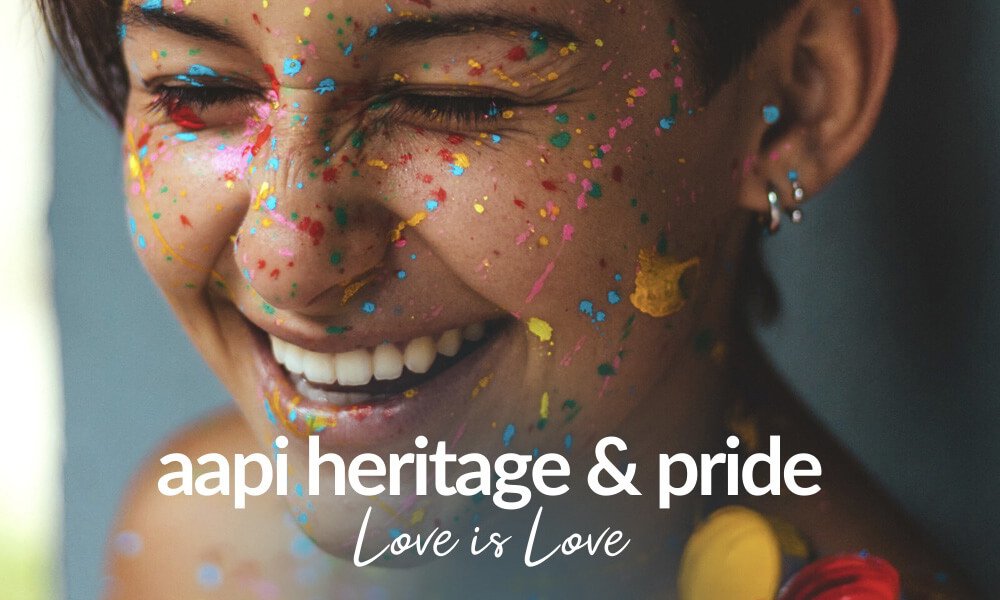 This Spring, Celebrate AAPI Heritage and LGBTQ+ Pride
Right now, we're at the intersection of two very important months of our celebratory calendar year. In the United States, May is celebrated as Asian American and Pacific Islander Heritage Month, while June marks the beginning of LGBTQ+ Pride Month.
This offers us an opportunity to learn from individuals who claim membership in both of these communities. Below, I'll also share some tips on celebrating with and being an ally to both communities, separately and together.
AAPI Heritage Month
AAPI Heritage Month has been celebrated throughout the United States every May since 1992. This particular month was chosen to honor the dates of May 7th, 1843 (the day that the first recorded immigrants from Japan arrived in the United States) and May 10th, 1869 (the completion of the transcontinental railroad, which was accomplished by primarily Chinese laborers).
While AAPI Heritage Month has been in existence since 1992, only in recent years has it begun to receive the attention it deserves.
LGBTQ+ Pride Month
In contrast to AAPI Heritage Month, LGBTQ+ Pride Month has grown from a grassroots protest movement to a large celebratory and awareness-raising occasion much faster.
Now, most large cities host raucous Pride parades and celebrations throughout the month, with corporate sponsorships contributing funds and providing plenty of branded products, content, and social media posts.
AAPI LGBTQ+ Individuals Today
While the thought of celebrating both AAPI Heritage and LGBTQ+ Pride months is exciting, the reality of being an AAPI LGBTQ+ individual is much more complex.
Unfortunately, many young people who claim membership in both communities experience a great deal more racism, homophobia, and transphobia than their peers. Many schools lack the resources to support this population, and as a result, their mental health suffers.
One recent survey from the Trevor Project found that 40% of AAPI LGBTQ+ youth have seriously considered suicide in the past year. There are many contributing factors to this worrying statistic, including the fact that more than 50% of AAPI LGBTQ+ youth regularly experience race-based discrimination. Additionally, there is a stigma in many AAPI communities that seeking help from a school counselor, therapist, or other mental health professional is a sign of weakness.
How We Can Support and Celebrate AAPI LGBTQ+ Communities
While many festive activities can and should take place during these celebratory months, I believe the best way to acknowledge the lived experiences of AAPI LBGTQ+ individuals is to make investments of time and money into causes that support their continued success, both mentally, physically, socially, educationally, and more.
Here are a few suggestions of how to make that happen.
Donate money to foundations and organizations that offer meaningful support for our AAPI LGBTQ+ young people
Some of the most reputable include:
Share stories with your students or children about incredible members of our global AAPI LGBTQ+ family
Some examples include actor George Takei, journalist Helen Zia, HIV/AIDS advocate Manvedra Singh Gohil, and author Vikram Seth.
Read books written by and about AAPI LGBTQ+ individuals
Whether you celebrate these two special heritage and pride months by telling stories or donating money, there's no wrong way to commemorate these occasions. If you have children, it's even more important to bring an awareness of these issues into their lives early, so they can grow up being conscientious and compassionate allies to all their friends, regardless of their race, culture, or sexual orientation.